Getting married at Lake Orta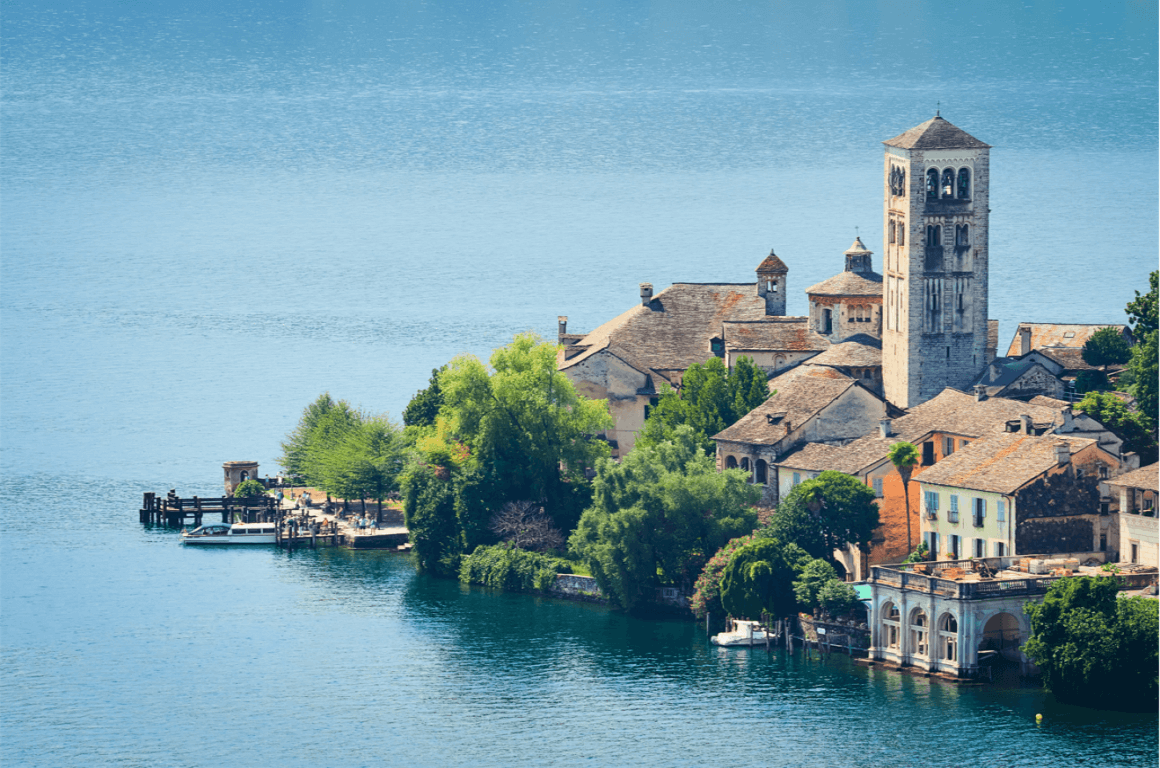 When I think of the most romantic place I know, my mind certainly goes to Lake Orta.
Celebrating your wedding in Piedmont, in this charming corner of the world, is the best choice for people who love authentic, intimate, and very impactful settings.
As soon as you get there, the atmosphere becomes cosy and romantic, and you are welcomed by the village of Orta San Giulio, a real gem where you can stroll along the small, cobbled streets lined with ateliers and pretty shops, not disturbed by cars.
The walk culminates in the delightful Piazza Motta, dominated by the 16th-century 'Palazzotto', the ancient seat of the local Government.
Historic buildings and period houses overlook this beautiful square, bordered by porticoes, under which restaurants, shops and cafés can be found; it has always been considered the town's "parlour".
Directly opposite it, you can see 'San Giulio Island', a place made up of quietness, distinguished by the thousand-year-old Basilica dedicated to the saint, which can be reached in a few minutes by boat from Piazza Motta.
Its spiritual dimension has been kept intact over the centuries and today Benedictine nuns reside on the island, weaving sacred vestments and creating precious embroideries.
Only residents are allowed to celebrate religious weddings in this basilica, while non-residents can celebrate their wedding in the parish of 'Santa Maria Assunta', placed at the top of a flight of steps in the heart of the village of 'Orta San Giulio'. Our wedding planning service includes the management of bureaucratic formalities.
Another very evocative setting is the Sanctuary of the 'Sacro Monte di Orta' (Sacred Mount of Orta), dedicated to Saint Francis, just outside the village, with a breath-taking view overlooking the entire Lake Orta, and from which you can admire 'San Giulio Island' in all its beauty.
Right in the centre of the village of Orta San Giulio, 'Villa Bossi' is an enchanting setting for the civil ceremony, the beauty of a period villa now used as town hall, where many couples from all over the world become husband and wife every year.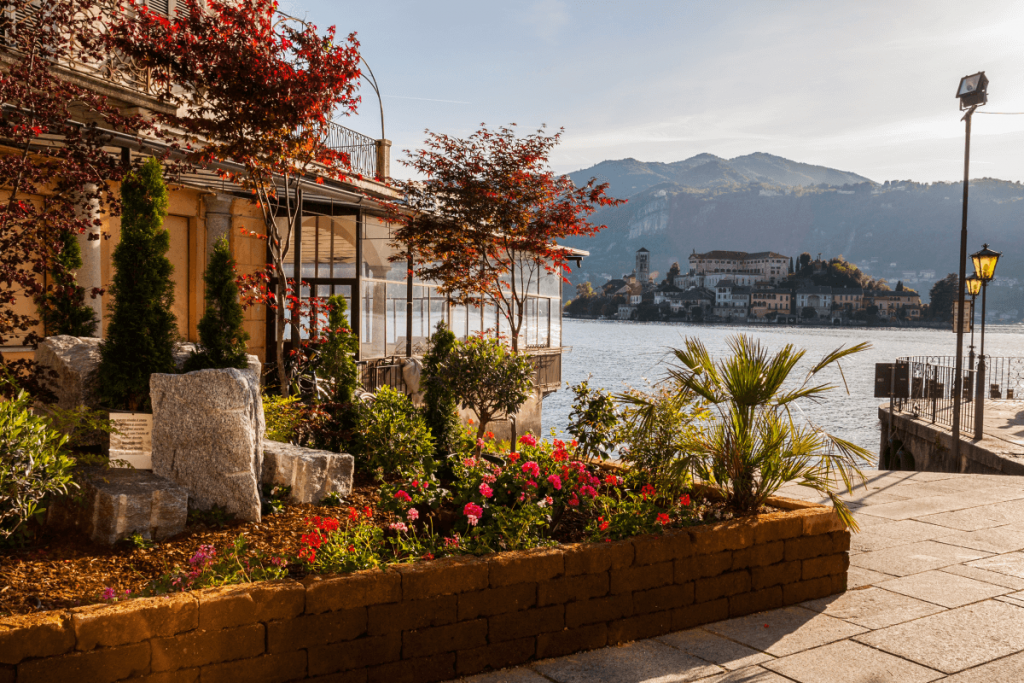 When thinking about the place where to say your "Yes, I do!", there is a variety of locations, and we will certainly find the perfect one for you.
Those who love fairy tales in the true sense of the word will be amazed by the charm of some fairy-tale villas, first and foremost the famous 'Villa Crespi' with its unmistakable Moorish style, that can boast a starred cuisine masterfully directed by chef Antonino Cannavacciuolo.
The charm of this incredible mansion is also due to its history, as it was built at the end of the 19th century as a love gift that Benigno Crespi wanted to give to his beloved Pia, resorting to the architecture that had fascinated him during his travels in the Middle East.
If you prefer a more contemporary mood, there are plenty of modern lofts, historic villas, and beautiful lakeside hotels, as well as exquisite restaurants that will delight the most demanding palates with local gastronomic delicacies.
We will give life to an unforgettable moment full of joy and beauty, tailor-made for you and your guests, by taking care of every detail and finding the best solutions to accommodate your guests and satisfy all your wishes.
Holding hands and enjoying the emotions that arise while walking through these places is surely the most beautiful way to cherish the love promise of a lakeside wedding.
Are you looking for a location at Lake Orta?
Exclusive wedding at Lake Orta
Deciding to celebrate your wedding in Piedmont, and at Lake Orta in particular, is definitely the right choice. This place offers an evocative landscape and is an excellent choice for lovers of authentic and intimate, yet striking, locations.
For those who are looking for a professional and competent service to get married at Lake Orta, Tala Design offers its couples over twenty years of experience and an all-inclusive wedding planner service.
The breath-taking and romantic landscape attracts couples from all over the world. Its beauty and charm combine with the possibility of choosing among different locations according to personal desires.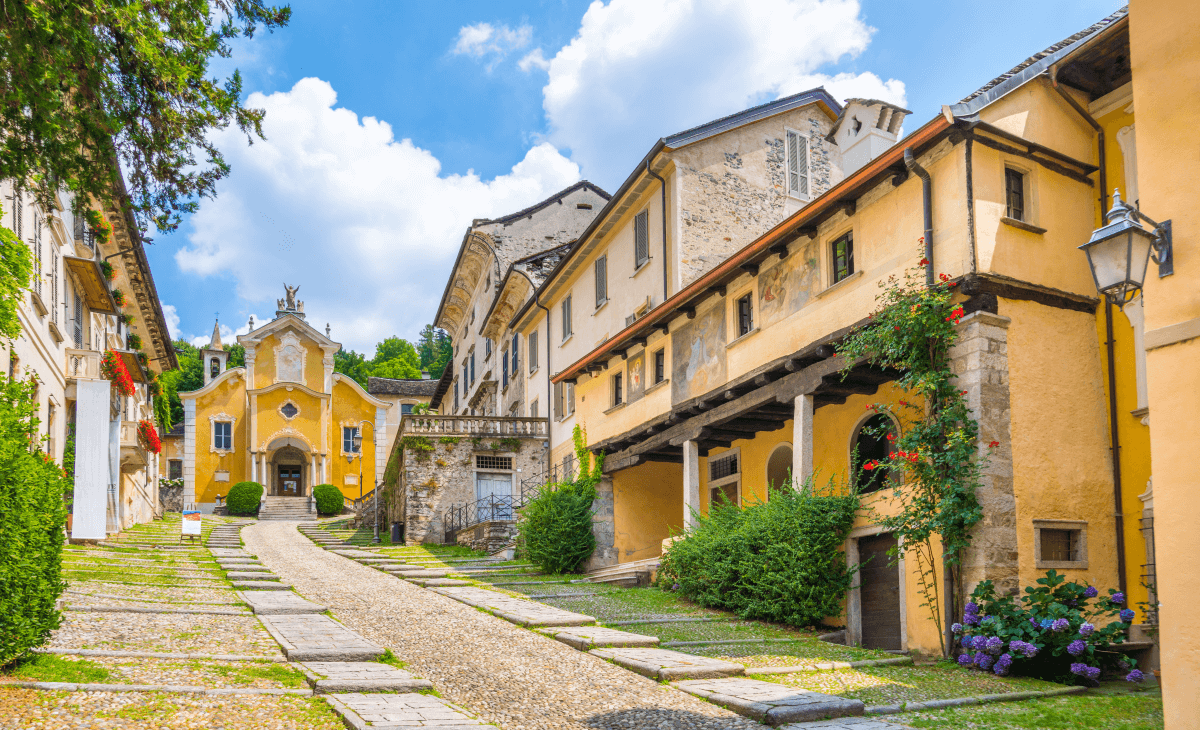 Among the different possibilities, you can decide to get married in the cosy and beautiful village of Orta San Giulio or on the hills that embrace Lake Orta.
Sabrina Talarico, a wedding planner who works in the Piedmont region, is known for her ability to customize an event for bride and groom; for her, it is "like telling a unique story every time".
The events organised and managed by Tala Design are an outburst of authenticity and harmony, characterised by tailor-made attentions for you. In fact, our events are emotionally moving and make a wedding special; memories designed solely and exclusively for the bride and groom.
Tala Design takes care of and organizes all kinds of events, especially weddings, with an all-round organization. This is because Sabrina Talarico follows the event from the very beginning, i.e., from the first appointment, while leaving you complete freedom in choosing to be involved in every decision about your wedding.
By choosing an all-inclusive and personalized service with Tala Design, you will have a team of experienced professionals at your side, able to create a moment of pure joy for you.
Contact me