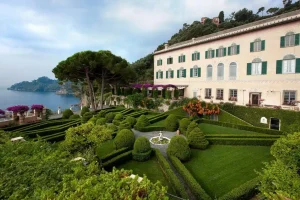 Portofino is a gem among world destinations for weddings, offering a variety of captivating venues to choose from. For a truly special wedding experience, consider saying "I do" at La Cervara, near Santa Margherita Ligure.
This historic location has garnered worldwide attention through its appearance in films and magazines. It's not difficult to understand why. With its breathtaking coastal location, magnificent architecture, and lush gardens, La Cervara is the perfect venue for weddings of all budgets. Allow us to bring your Italian dream wedding to life. Contact us now, you won't be disappointed!
Wedding at La Cervara in Santa Margherita Ligure
Choosing the perfect wedding venue can be a daunting task, but with Tala Design, you can trust in the expertise of wedding planner Sabrina Talarico. Sabrina is a specialist in creating fairy tale weddings and has a keen sense of beauty and style. Her sensitivity, expertise, and aesthetic taste will help turn the wedding day you've been dreaming of since childhood into a reality.
Tala Design offers a luxury wedding planning service that will make your special day perfect, magical, enchanted, and poetic, selecting the ideal wedding venue, decorations, flowers, outfits, cakes, and entertaining activities to make you and your guests feel like royalty living out your fairytale dream.
In this article we feature one of the spectacular locations that can inspire your choice, a fairy tale villa in Portofino: La Cervara, known as Abbazia of San Girolamo al Monte (Cervara Abbey).
La Cervara is truly one of the most enchanting venues to say I do in Italy. Its spectacular position overlooking the stunning panorama of Portofino and the sea, the lush lawns and gardens, climbing wisteria pergolas, blooming bushes, and the terrace make it the perfect place to get married. It also offers accomodation for both the bride and groom and their guests, making it the ideal choice for your special day.
With your wedding planner in Portofino, you can have the wedding ceremony of your dreams, whether religious or civil, held in the gorgeous garden of La Cervara. The reception can also be held at the same venue, making your special day an unforgettable experience.
Exclusive wedding venue in Portofino: La Cervara
Located in Santa Margherita Ligure along the Lungomare Rossetti, La Cervara offers a breathtaking panoramic view with its well-manicured gardens overlooking the stunning Gulf of Tigullio and its sparkling waters.
The grand and enchanting rooms of this ancient abbey, which has been privately owned for decades and is now designated as a National Monument, have been renovated to offer both comfort and luxury.
Both the external and internal spaces are not just suitable, but we confidently say they are ideal and perfect for hosting a fairytale wedding celebration.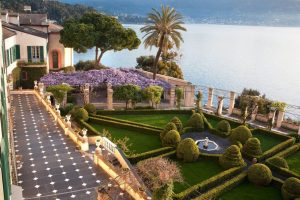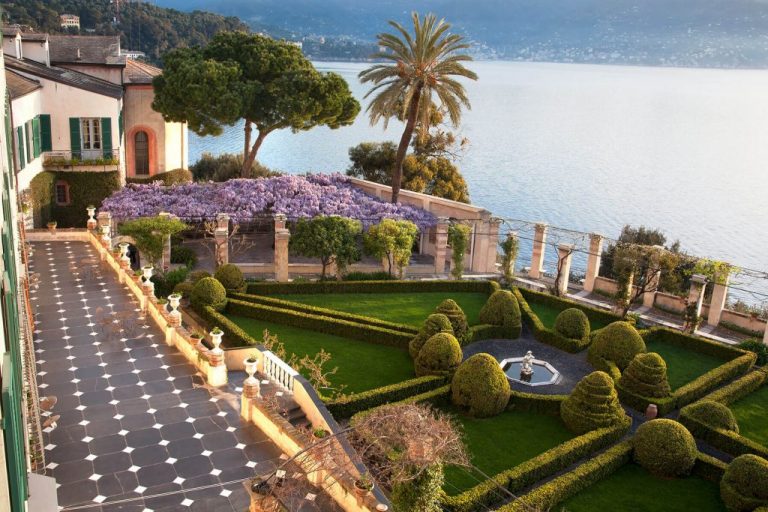 Couples who have celebrated their special day or other important events at La Cervara have described it as a one-of-a-kind and awe-inspiring setting, offering a magical experience due to its stunning beauty and prime location. The venue is surrounded by breathtaking scenery and provides panoramic views of the park and the stunning sea.
Access to La Cervara is a journey in itself, as you wind your way up the evocative uphill road, pass under a romantic wisteria pergola, stroll through the tranquil cloister, and the beautifully manicured gardens. When you finally reach the main structure, you will be greeted with a breathtaking panorama of the park and the spectacular magnificence of the sea, which are defining features of this magnificent villa.
Catering
For your fairytale wedding reception, you have the option to dine indoors or outdoors, depending on your preference and the weather. The elegant and spacious salons provide a comfortable indoor option, while sunny days allow you to take advantage of the stunning gardens with breathtaking views of the sea. Regardless of your choice, you and your guests will be treated to delicious cuisine and unparalleled panoramic views that make this venue truly unforgettable.
Your wedding lunch or dinner will be expertly prepared and organized by the skilled staff of Villa Cervara. However, if desired, you can also opt for catering services from one of the delectable nearby restaurants. Whether you choose to dine in-house or opt for outside catering, you'll be able to enjoy local products and a menu tailored to your specific tastes and the preferences of you and your guests. With a wide range of options of appetizers, entrees, pasta dishes, main courses, sides, and desserts, every detail will be considered to ensure that your menu perfectly reflects your individual style and tastes.
Hotel rooms
La Cervara offers several options for a peaceful stay during your wedding.
If you decide to spend the entire wedding day at this stunning venue, we highly recommend staying the night as well.
The rooms offered by this villa are truly breathtaking and will provide an unforgettable first night as a married couple and will certainly satisfy the needs of even the most discerning guests.
The options range from rooms in the main Abbey structure to those in the Saracen tower, with a choice of deluxe sea-view suites, such as Francesco I, Delfini, Mandarino, and Oltremare, or junior suites with views of the lush garden like Limone and Magenta or views of the sea like the Butterfly.
Furthermore, you have the option to select from one of the charming double rooms located in the tower or the sophisticated Main Floor apartment which boasts an open kitchen, dining area, and a living room with expansive windows that provide stunning views of the historic Italian garden or the Gulf of Tigullio. Regardless of your choice, you will be ensured a comfortable and unforgettable stay at La Cervara.
Events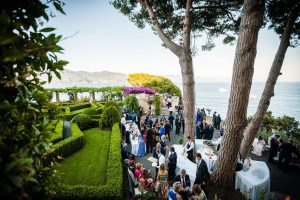 Villa Cervara's breathtaking location not only makes it an ideal venue for weddings, but also provides the perfect backdrop for a variety of events and celebrations. It can accommodate not only your wedding reception, but also any other kind of party or conference.
The magnificent views, beautifully maintained gardens, the exceptional staff, consisting of highly skilled and ever-attentive personnel, the option to stay overnight in one of the rooms, the nearby tourist attractions, and the opportunity to visit the beach and unwind during the day, offer the ultimate solution for any type of event you have in mind.
La Cervara is the ideal venue for organizing your wedding day as the magic that characterize this place will make your day a fairy tale becoming a reality.
La Cervara: guest opinions and reviews
La Cervara is the perfect venue for weddings, conferences, and grand celebrations, set amidst the breathtaking beauty of the blue sea and lush of the green gardens. Its atmosphere is truly magical, and as noted by guests in their reviews, the elegance, refined taste, and attention to detail demonstrated by the owners in their renovations of this historic building and its surrounding gardens are what truly leaves an impression.
Guests who have held their weddings, receptions, lunches, or dinners at La Cervara describe their experience as being just like in a fairy tale.
Everything about La Cervara is experienced as being exceptional, from the food to the rooms, from the positive energy that permeates the venue to the expert staff who are both friendly and professional, always available but never intrusive. Everything is in its place and there is a sense of perfect harmony and synchronicity.
La Cervara has been hailed as a paradise with sea views, a photographer's dream for capturing the joy and solemnity of a wedding, and a place that is impossible not to fall in love with or forget. According to unanimous agreement, especially from those who have had the chance to enjoy its views and interiors, it is highly recommended to fully experience the uniqueness of this venue in Portofino.
Contact me