In this article, we will highlight some spectacular wedding venues that will provide inspiration for your special day: Belmond and La Cervara.
If you are still unsure about the perfect wedding venue, allow Tala Design to assist you in creating a truly magical and enchanted day.
Our team  and Sabrina Talarico, will guide you in selecting the ideal location, as well as providing expert advice on decorations, flowers, attire, cake and entertainment, to ensure that you and your partner will feel like royalty on our special day.
Entrust wedding planner Tala Design with the task of creating your dream wedding day.
Sabrina of Taladesign specializes in organizing beautiful and memorable
weddings in Portofino
. With her attention to detail and expertise in event planning, she will ensure that your special day is everything you have dreamed of and more. Trust Sabrina to bring your vision to life and make your wedding day truly unforgettable.
In this article, we will showcase some breathtaking wedding venues that can serve as inspiration for your special day.
Exclusive wedding venue in Portofino: La Cervara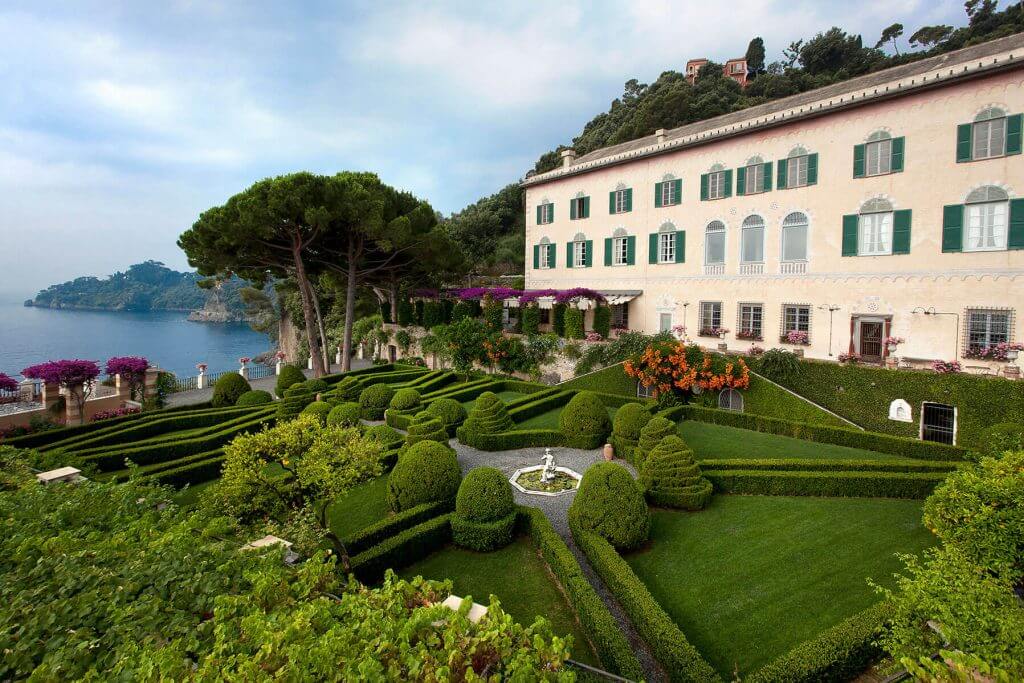 La Cervara is one of the few properties in Italy that boast Italian gardens with breathtaking sea views. Situated in Santa Margherita Ligure along the Lungomare Rossetti, this venue offers a spectacular panorama where the sea fills the eyes with beauty. Your guests will be awestruck by the beauty of this ancient abbey. The gardens and the exterior spaces provide the perfect setting for various moments of your wedding.
Couples who have chosen La Cervara for their wedding venue have described it as a unique and spectacular location that offers many entertainment and magical options due to its position, immersed in an exceptional landscape.
Access to the property is through a small uphill road, then you can stroll through the cloister and  magnificent gardens leading  to the majestic sea view, which is the highlight of this villa.
La Cervara allows for your dream wedding reception to be held in the stunning  gardens overlooking the sea, creating a spectacular and unique atmosphere. The spacious internal salons, with their sea view, provide an elegant and impeccable Plan B option and are perfect for accommodating a large number of guests. And if you are looking to a lively after-party, La Peschiera is the perfect  space to let loose with your friends and family!
Catering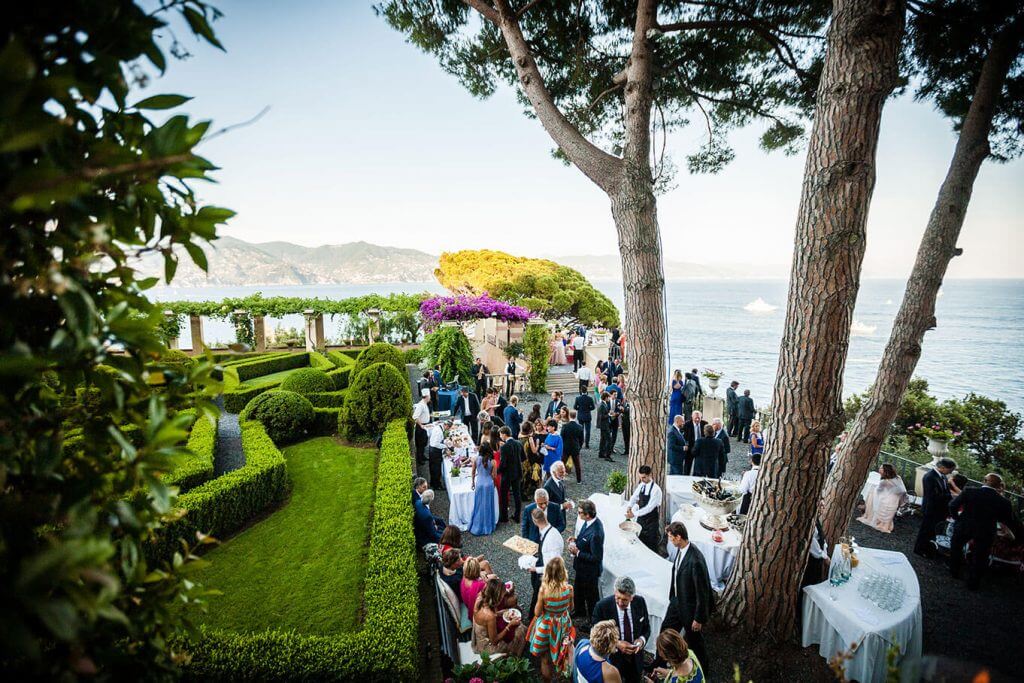 At La Cervara your wedding lunch or dinner will be prepared and served by the experienced internal staff who will delight you and your guests with always seasonal and innovative dishes.
Hotel rooms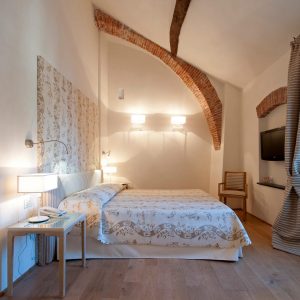 La Cervara offers various solutions for a serene and comfortable stay. If you are getting married at La Cervara we recommend that you also stay overnight as the rooms of this villa are breathtaking and allow you to fully immerse yourself in the beauty of this breathtaking location.
La Cervara offers various options for accomodation: you can stay in the luxurious Francesco I room, a deluxe suite with sea view, as well as in the Oltremare, or you can also choose the junior suite with garden view, the Butterfly junior suite with sea view or the Tower that has two double rooms with sea view, a Jacuzzi on the rooftop, and finally an apartment on the main floor with rooms with sea view. Each room provides a unique and comfortable experience.
Events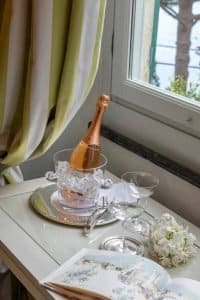 The stunning La Cervara is the perfect setting to organize various types of events and parties.
In addition to being ideal for a dream wedding reception, La Cervara also offers perfect spaces for other parties and events.
The spectacular panorama, perfectly manicured gardens, attentive and impeccable staff, elegant accomodation options, the surrounding tourist attractions, and the possibility to relax on the beach during the day make it a really perfect solution for any kind of event you wish to organize.
La Cervara is the perfect venue for your wedding day as its magic will be an integral part of your special day, and will make it even more unforgettable.
Wedding in Portofino: Belmond Hotel Splendido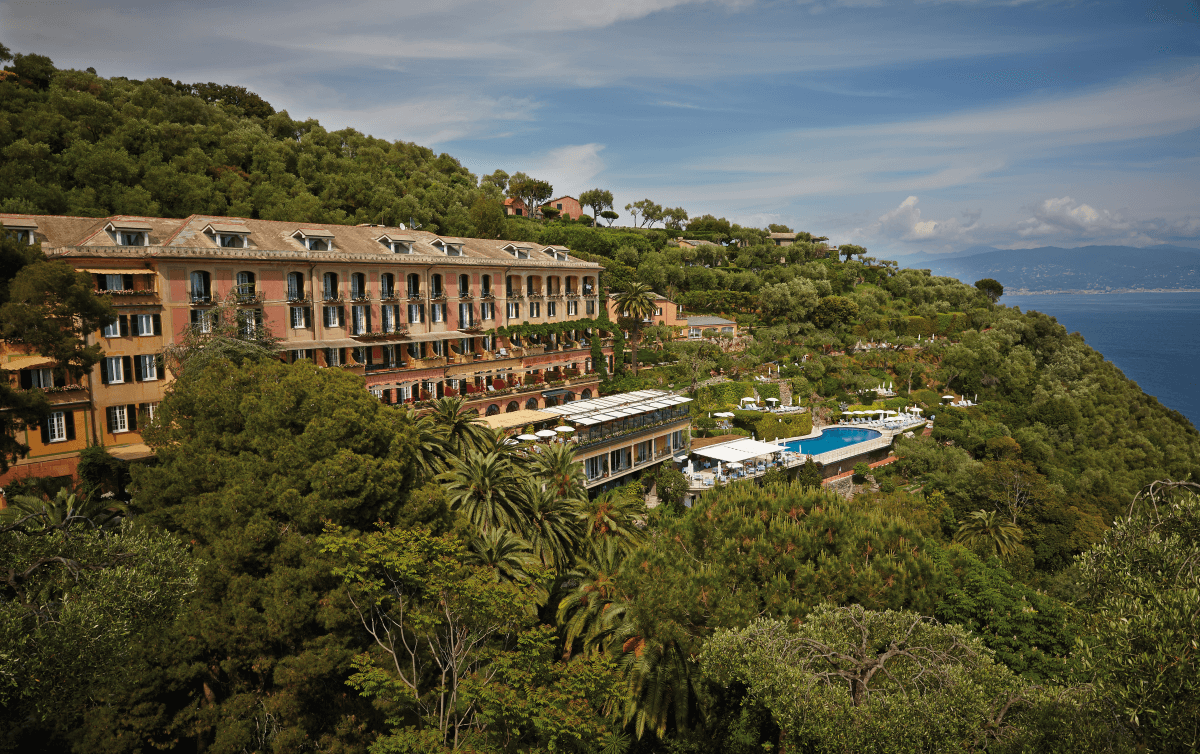 Another very evocative venue for your wedding reception is Hotel Belmond located in Portofino in Via Salita Baratta 16.
The setting and the hotel are enchanting and will allow you to live out your dream day in a fairytale-like atmosphere. The location offers stunning views of the bay that can be admired from the rooms and the hotel's garden, leaving you in awe of the breathtaking scenery. Due to its position and the view offered, it is one of the most evocative and beloved hotels in Portofino. The air that you breathe brings you back to the "Dolce Vita" era. Entering Hotel Splendido is like immersing yourself in a beautiful and elegant dimension where time slows down, allowing for an atmosphere filled with vibrant colors and the scents of Mediterranean bushes.
Visiting the hotel in spring, when the flowerbeds are in full bloom, the gardens are lush, and the surrounding vegetation is thriving, provides an explosion of fragrances and intoxicating colors. It's easy to understand why so many celebrities have chosen to stay in this exclusive corner of the world! Many photos from the 1950s, '60s, and '70s depict romantic soirees and festive nights in the clubs that still exist today and welcome couples who want to have fun with their guests.
Imagine an after-party in the Piazzetta or the Paraggi bay after having celebrated your love in the stunning spaces of the Belmond Hotel Splendido. Isn't it amazing?
Wedding in Portofino: Belmond Splendido Mare
The Hotel Splendido Mare is situated right on the most famous square in Liguria and among the most famous in the world, the Piazzetta of Portofino.
It boasts charming rooms and its restaurant, DAV, which are considered the jewel of Portofino. It is the perfect location to celebrate such a special day while immersing in the Dolce Vita of the Riviera.
Catering
The La Terrazza restaurant at Hotel Splendido offers a breathtaking dining experience on their terrace with a sea view. The restaurant serves delicious dishes made with high-quality ingredients, expertly prepared and presented. Guests also have the option to dine in a spacious and elegant internal salon.
La Terrazza is widely considered one of the best restaurants in Portofino.
The hotel also features an elegant cocktail bar where guests can enjoy a cocktail while taking in the sea view during the golden hour or after a delicious meal at Belmond.
It is an unforgettable experience, and if you choose to host your wedding at this location, your reception will be spectacular and will leave your guests in awe.
If you head down to the Piazzetta you find the Hotel Splendido Mare's restaurant Dav that is directed by the renowned Cerea family, known for the much-coveted Michelin-starred family restaurant in Bergamo. The Splendido Mare not only offers spaces to host guests but also delights even the most discerning palates with exceptional dishes!
Hotel rooms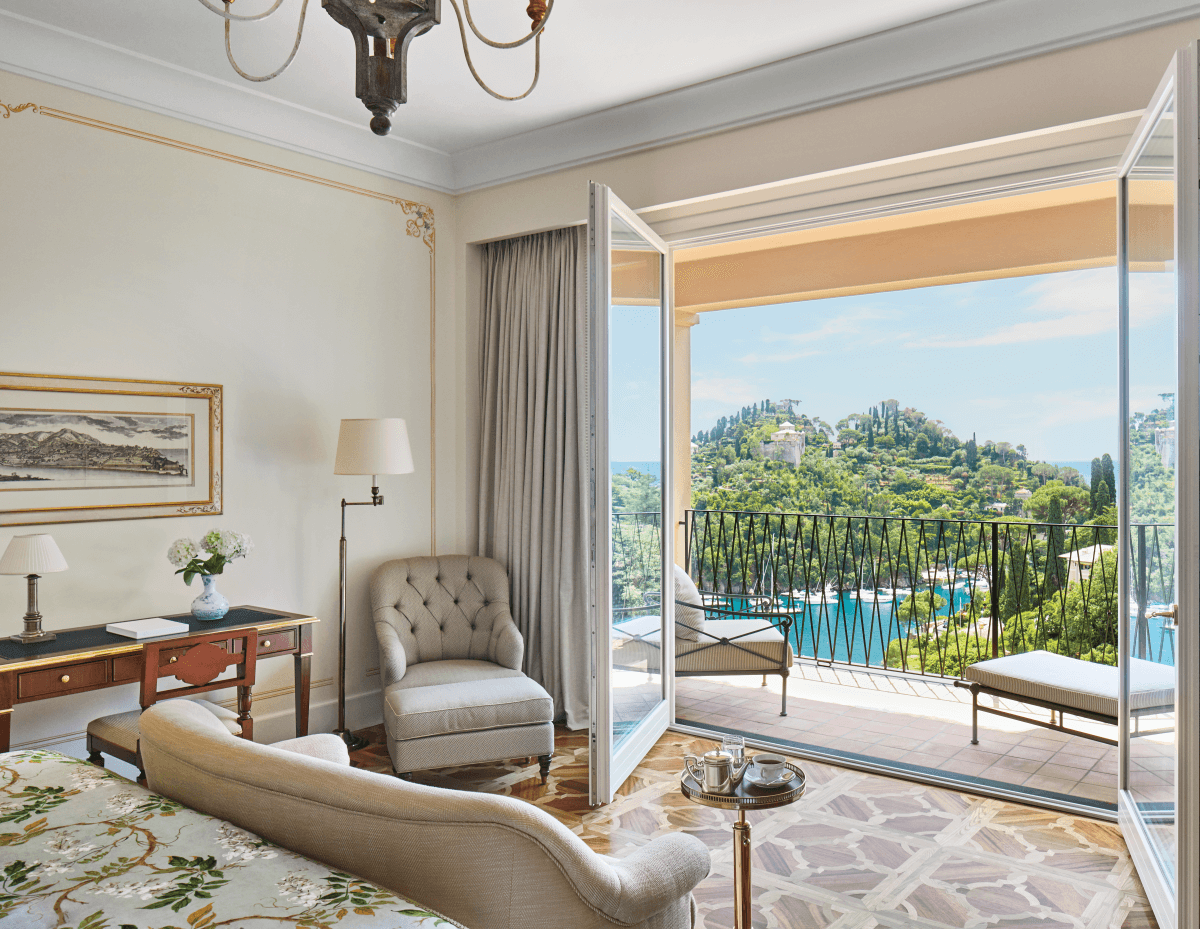 Belmond Hotel provides a wide range of accommodation options to meet the needs and preferences of all guests.
They offer double rooms, junior suites, suites, and a presidential suite, all of which are elegantly designed with beautiful spaces, furniture, and finishes. The added bonus of stunning sea views from the rooms makes for an unforgettable experience.
If you're planning a visit to Portofino, we highly recommend staying at the Belmond Hotel for an unforgettable experience.
Events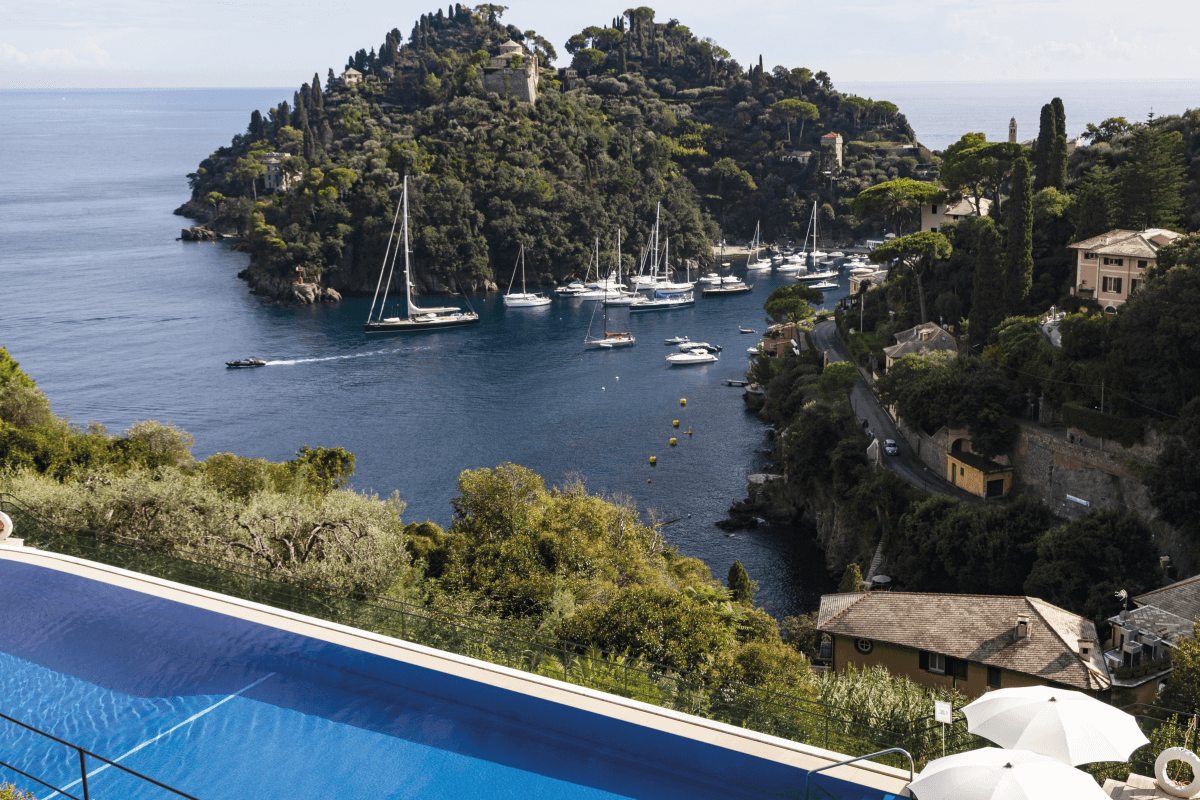 The hotel Belmond, with its charming beauty, captivates all guests and its magical atmosphere is perfect for hosting various events and making each occasion special and extraordinary.
The Portofino Splendido hotel's unique style seamlessly combines the simplicity of nature with the elegance of the structure, creating an authentic and sophisticated atmosphere with a timeless taste.
In addition to the wedding, which take on a magical and fairy-tale charm when held at this location, the hotel is also perfect for elopements, honeymoons, parties and events of all kinds where the main ingredient is  elegance.
It's also possible to create different atmospheres in different settings. For example, it would be evocative to organize a welcome drink at the Piazzetta or in the Splendido Mare spaces the night before the wedding.
The hotel also offers a variety of activities to make your stay in Portofino even more memorable, such as boat tours, crazy Vespa tours, romantic strolls in the borgo and excursions on the mountain of Portofino. Additionally, there are many other possibilities to be discovered with Tala Design.
La Cervara and Belmond: opinions
La Cervara and Hotel Belmond are truly exceptional locations for hosting grand and unique events such as weddings, parties, and other special occasions, surrounded by breathtaking and sensational beauty.
Guests who have stayed at these venues often describe their experiences as if they were living in a fairytale.
From the location to the food, rooms, and amazing staff, everything is excellent and nothing is out of place, everything is just in perfect harmony.
We highly recommend trying these places in Portofino to experience their magic and authenticity for yourself.
Contact me